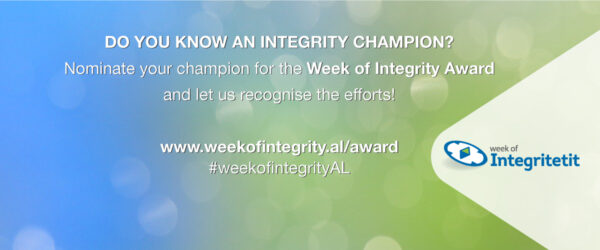 About Week of Integrity Award
The Week of Integrity Award is established in 2020 to honour Albanian champions in appreciation and recognition of their efforts to stand up for integrity and expose corruption.
The Annual Integrity Award seek to recognise the outstanding work of a stakeholder or collective actions around the country. These awards are a chance for Albanian actors to showcase their achievements across a variety of initiative purposes from promotion of transparency, accountability, responsible business conduct, ethical leadership and more.
The awards are given out in a number of categories, each of which includes engagements from several partners.
GUIDELINES
Nominations: Who can nominate?
Nominations may be submitted by individuals and legal entities only within the term defined for nomination in the Award guidelines.
Organizations, businesses, academic institutions, chambers of commerce, think tanks or any other form of legal representation can make nominations for any of the awards' categories.
Self-nominations are not accepted.
A submitter can enter up to three nominations either in different categories or in one, but may enter a specific action only once.
The nomination process will be published through Week of Integrity website and social media channels.
Submitters can nominate individuals only for the Research category.
Submitters and nominees shall be individuals and entities operating within the territory of the Republic of Albania.
Targeted actions
The champion can be an individual[1] or institution that is a source of inspiration and has worked;
To report corruption,
To develop tools and instruments that help strengthen integrity in society and institutions,
To develop investigative reports and/or documentaries,
To write focused research on the state of anti-corruption & integrity,
To implement initiatives to promote integrity (transparency, ethics, accountability, fight against corruption).
Any other type of action that relates to promoting integrity and fight against corruption.
The action should have taken place or is implemented in the last two years.
[1] Only in case of researchers.
Award Categories
The Integrity Award comprises of five categories that target projects and initiatives undertaken by institutions, organizations and individuals[i]:
Integrity Award for the Best Focused Research on Integrity topics;
Integrity Award for the Media Sector;
Integrity Award for Civil Society Action;
Integrity Award for Business Sector; and
Integrity Award for Youth Action.
[i] Only for the Research category
FORM
TIMELINE
15 October 2021
Opening of Nominations
12 November 2021
Closure of Nominations
1 December 2021
Announcement of the shortlisted nominees
9 December 2021
Announcement of the winners