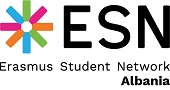 Quality of Education
ESN AL is a youth organization focusing on the importance of education, internationalization of education and peer support by young people all around Europe.
Within the Week of Integrity, ESN Tirana will organize a hybrid format seminar with Albanian students as well as international ones, on the role of integrity in Higher Education.
We will invite guest speakers from ESN International Headquarters and the Life Long learning programme, to discus importance of integrity in education and the importance of life long learning education, which is contributing as well to SDG 4 ' Quality of Education'.